10 Fun Kid Friendly Summer Break Ideas for Arizona!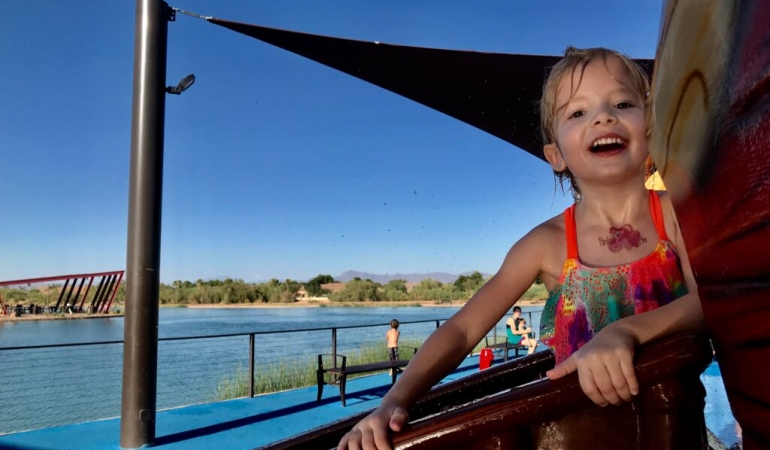 10 Fun Summer Break Ideas in Arizona!
by: Jen Duncan
Splash Pads
Mansel Carter Oasis Park is a huge favorite with the kids. They have a neat pirate ship with a slide that the kids can go on over and over again. There are also some great big buckets that splash down to keep the kids cool and wet. For the nicer weather, there is a playground up on the hill with a super tall slide and lots of cool little equipment to play on. Dad can also go fishing at the lake if he gets bored!
https://www.queencreek.org/departments/parks-recreation/parks-and-recreation-master-plan-update/mansel-carter-oasis-park
Eastmark has a great Splash pad that is toddler friendly because it is fenced in. The Handlebar diner next door is great to grab a quick bite to eat or Milkshake to take to the Splash Pad.
https://www.eastmark.com/whats-here/eastmark-great-park/ http://handlebardiner.com
One of our previous MOMnationAZ blog posts has a full list of Splash Pads and links to information!
https://momnationaz.com/2017/05/pools-and-splash-pads-an-az-summertime-must-??/

POGO Pass!
Use the code MOMNATION to get your POGO pass for ONLY $39.98! https://www.pogopass.com/phoenix
Uptown Jungle Fun Park – POGO Pass Eligible
Uptown Jungle has multiple locations across the valley with a new one just opened in Chandler. They have a great toddler area for kids under 5 and then the main play area is great for 5 and up. There are so many cool things to do and as a bonus, there is a parent lounge! It's a great place to go to let your kids run and play to tire themselves out while you relax or get some work done.
https://uptownjungle.com/#locations
i.d.e.a. Museum – POGO Pass Eligible
The i.d.e.a. Museum is a great place to spend a few hours. They change out the exhibits every few months so there is always something new. They have activities for all ages. The toddler play area was a huge hit when my daughter was 3-4 years old! Prices are very affordable, but you can also use your POGO Pass at the museum. POGO Pass and it includes 2 visits to the i.d.e.a. Museum.
https://www.ideamuseum.org
A few other attractions you can visit with your POGO pass include Uptown Jungle, Fat Cats, The Phoenix Zoo, KTR, Golfland SunSplash and so much more!

The Crayola Experience
The Crayola Experience is brand new and located in the Chandler Mall. You can create a new crayon, do some sweet drip art, stomp and play on the interactive floor, or just sit and color. This is sure to be a huge hit with the kids to beat the heat.
https://www.crayolaexperience.com/chandler/things-to-do/attractions

Movies!
Harkins Theatres does a great 10 week series where you get 10 movies for $7. This is great for the kids to get out and watch a movie for a great price. You can attend weekly or attend whichever weeks you'd like. You buy tickets and choose a day that you would attend. You must buy the tickets at the location you plan to go to.
https://www.harkins.com/movies/summer-movie-fun

Hurricane Harbor
Six Flags just re-opened Wet N' Wild as a Hurricane Harbor in Glendale. Growing up near Six Flags Great Adventure/Hurricane Harbor in Jackson, NJ was SO much fun! Enjoy great Water Slides and the wave pool!
https://www.wetnwildphoenix.com

Children's Museum of Phoenix
The Children's Museum of Phoenix is a HUGE hit amongst kids. There are many exhibits like an Art Studio, Blockmania, a Noodle Forest, and so much more!
https://childrensmuseumofphoenix.org

Open Gym
One of my daughters FAVORITE things to do when it's hot is visit an open gym location. We go to USA Youth Fitness Center. It's a perfect 90 minutes to let the kids get out all the wiggles and they can enjoy the trampolines, balance beams, foam pits and more!
https://usagymaz.com/events-parties/open-gym/
http://www.goldmedalgym.com/join-the-fun
http://www.northvalleygymnastics.com/project/open-gym/
http://www.impactgymaz.com/open-gym

Play Places
Chik-Fil-A and McDonalds have great play places where you can grab some lunch and let the kids burn off some energy! Be sure to check their websites to see if they have a play place and if it's geared toward toddlers or school age kids. If it doesn't say, give them a quick call before you pack up the kids and make the trip.
www.McDonalds.com
https://www.chick-fil-a.com

Staycation!
If you're like me, you don't like packing, flying, or traveling far. Resorts like the Arizona Grand Resort are great for family staycations. What's better than staying at a local beautiful hotel where you have your own car, and know where all the restaurants are. The Oasis Water park is a HUGE hit with families looking for a great time locally.
https://www.arizonagrandresort.com
https://www.arizonagrandresort.com/#oasis-water-park
Ready to move?  Here's a list of all the foreclosures, price reductions and under market value homes in the greater Phoenix area.