Eastmark in Mesa in 2020 – 2021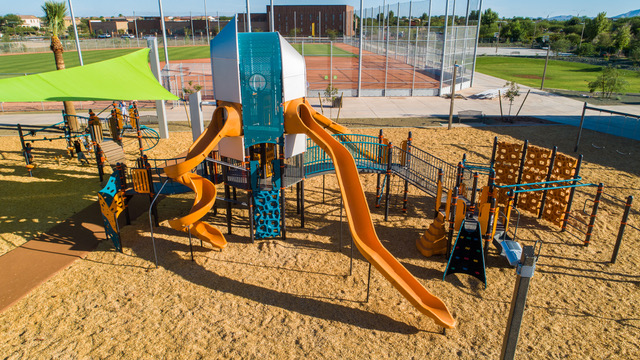 Eastmark is growing and evolving right before our eyes. Many of the big additions to the neighborhood that were announced a few years ago are complete with many more in the works.
The latest expansion of the Eastmark Great Park is complete. There are now dog parks, baseball fields, sand volleyball, and some great new play structures including bigger kid slides, zip lines and a toddler play area. We recently hosted our daughters birthday party there and the kids had a blast! We set up canvas painting tables and had a neighbor who owns a Canvas Paint Party business teach the kids how to paint a beach scene. After, they were able to go run and play! It was the perfect outdoor party! The next phase is underway and is rumored to include a fishing lake!
The next phases of homes are also starting up including single family homes, townhomes for sale, and single family cluster style homes. These new sections will appeal to a wide range of price points.
Living in Eastmark has really been a dream come true. When someone needs help, there's always a neighbor there. If a pet goes missing, everyone jumps to help them. Halloween this year was a huge success. The Eastmark Community Life team planned multiple smaller park parties so people could enjoy the festivities without too many people in attendance. It was perfect because there were kid centric and adult centric events. For Halloween night, many streets closed down and did block parties and bounce houses and the kids had an absolutely amazing time.
We also love how many cool things are coming to the area. New restaurants are being announced often like Boca Taquiera, Eegees and Black Rock Coffee with many more to come in the future.
They just broke ground on a huge sports complex just outside of the Eastmark and Cadence neighborhoods. https://www.legacysportsusa.com
A new Wave Pool Surf park was also recently announced which will be located near Power and Warner Road just a few miles West of Eastmark. https://wavepoolmag.com/mesa-arizona-wave-pool-now-official/
Search all Homes in Eastmark: https://myre.io/0mGFObTM6bDSC
by:
Jen Duncan
Realtor
Team EvoAZ at eXp Realty
[email protected]
480-707-7554
www.EvoAZ.com
This article is brought to you by:
The City of Mesa