Ready or Not!! Life after Maternity Leave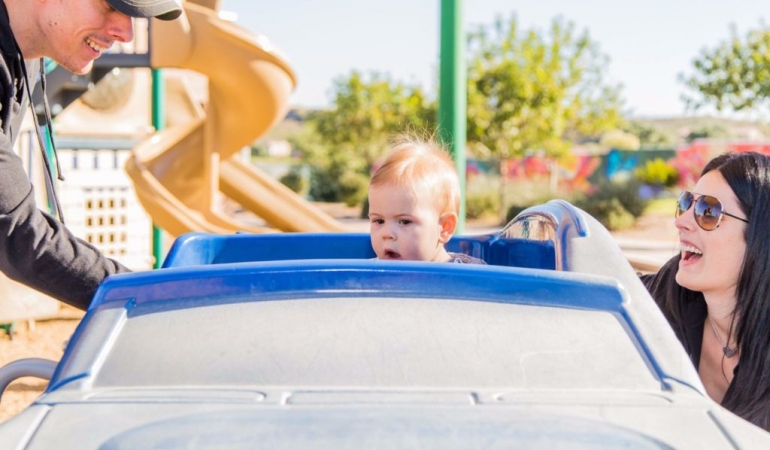 Almost as soon as my baby was born back in January, I knew the clock had started ticking on my (unpaid) maternity leave. Of course, it's so distant in the moments of newborn bliss. I have 12 weeks to spend with my baby! I have 12 weeks to figure out how this family of four, with two babies under two years old, will function. I have 12 weeks to finally get around to these projects I've been meaning to tackle (Are you laughing at this last statement?? Because I am!!)!!
And then…
I was supposed to return to work last Monday. Even though I work from home and have invaluable flexibility that most working moms don't, I couldn't do it. I wasn't ready. My baby had become colicky over the last couple of months and I couldn't get to the bottom of it to find relief for her (and for us). Between my colicky baby and my toddler adjusting to her new room and bed (boy did we screw that one up!!), I wasn't getting more than 3-4 hours of sleep at a time. I was officially running on fumes, barely able to function. I thought, there's no way I could handle my job right now when I can hardly formulate a full sentence. It was difficult to do, but I called my boss, maaaaybe stretched the truth a teensy tiny bit and extended my leave another week. I could hear the annoyance in the voices of the co-workers I spoke to, who were covering for me and looking to dump things back on my plate. Sorry… not sorry.
And then…
When I realized this rare opportunity to take time for myself, which I will most likely not have again for a long time, things began to turn around. I could think a little clearer without the pressure. At my wits end with the colic, we shifted focus and realized that acid reflux could be the cause behind the crying. So the baby started Zantac, and although she's still colicky it's not nearly as bad! She has been sleeping more. I have been sleeping more. I treated myself to a manicure and pedicure, I've gone shopping by myself, simple acts to make me feel like a human woman again instead of a hot mess "Mombie." I started to feel a little more ready to claim my professional life back.
And so here we are, my first day back to work. As much as I yearned for a break during my baby's colic episodes, I cried my eyes out when my husband left this morning to bring them to daycare. Today will be the longest day in my new baby's life, the longest time away from me. And while I know it's for the best, eventually, it doesn't make it any easier in the moment.
I prepared myself as much as possible last night – shower, outfits for me and the girls laid out, alarm set and morning prep mentally scheduled, coffee pot set for 6:45am – and it made all the difference. My baby even gave me the gift of sleeping through the night before my first day back to work!
"Mommy Feelings," as I call them, can be conflicting and scary and all-consuming. My tears had to be put away quickly this morning because I had to be "on" for my first conference call at 7am. And that is a good thing, because it's easy to slide down the rabbit hole of guilt. I've been slowly moving through my day, making a conscious effort to read each email and determine an action. I've been able to take a break to throw in a load of laundry. I pump at my desk so I can still get things done. And even though my mind is mostly on my babies and wondering if I'm ever doing the right thing, I am slowly settling into this new phase of my life. Because ultimately, we're never "ready" for what needs to be done. We can only prepare so much. But the beautifully anguished act of letting go, and diving in, is what transforms us and builds our person. And that, I am ready for!
MOMlife by Courtney Spiak